Case Study - pocket watch movements
In November of 2012, I became interested in pocket watches and learning watch repair, so I got on Ebay and looked around for some watch innards that I could learn on. I found a person selling six movements, some incomplete, which seemed like just the thing.
First mistake
I was a bit too enthusiastic and emotional. This is not the mood you want to be in when looking for a deal (or when making any kind of purchase). You want to be cold, rational, and somewhat skeptical. There is always another opportunity, so if there is any doubt, just wait till you are sure, and risk letting something slip by. This is particularly true when you don't know a lot about what you are buying. When you know more, then you will be able to recognize a deal that you want to jump on.
Second mistake
Always go for quality. I have learned this time and time again, and am never sorry when I hold out for the best.
The details
Enough of all these generalities, here are the images the seller provided: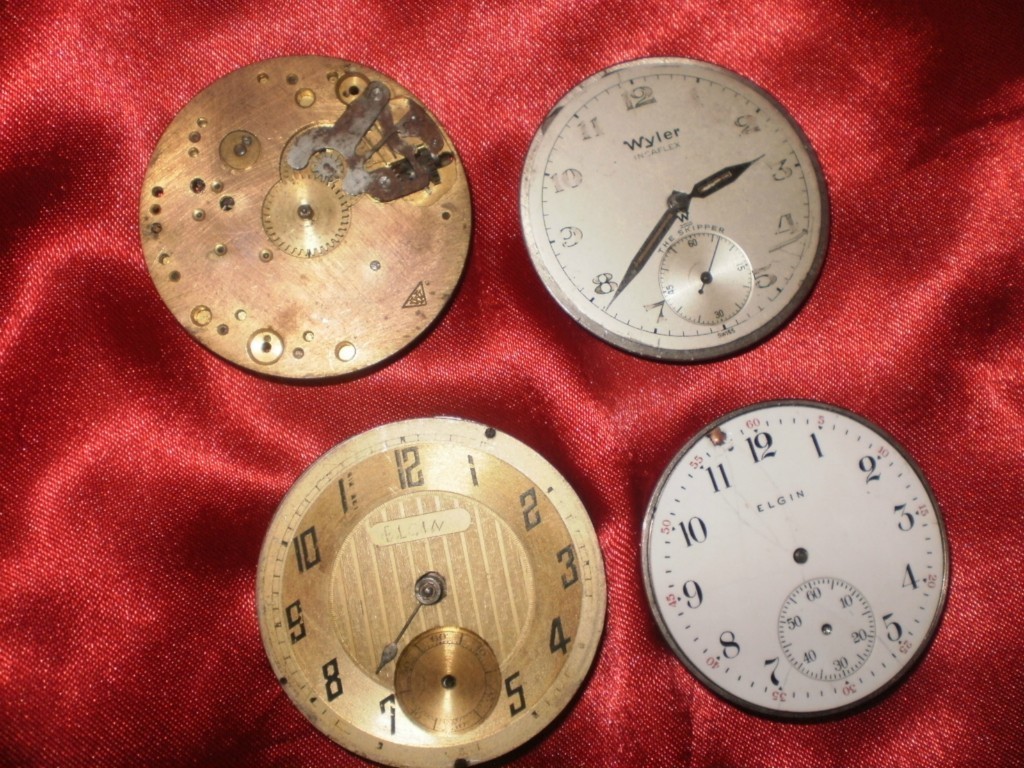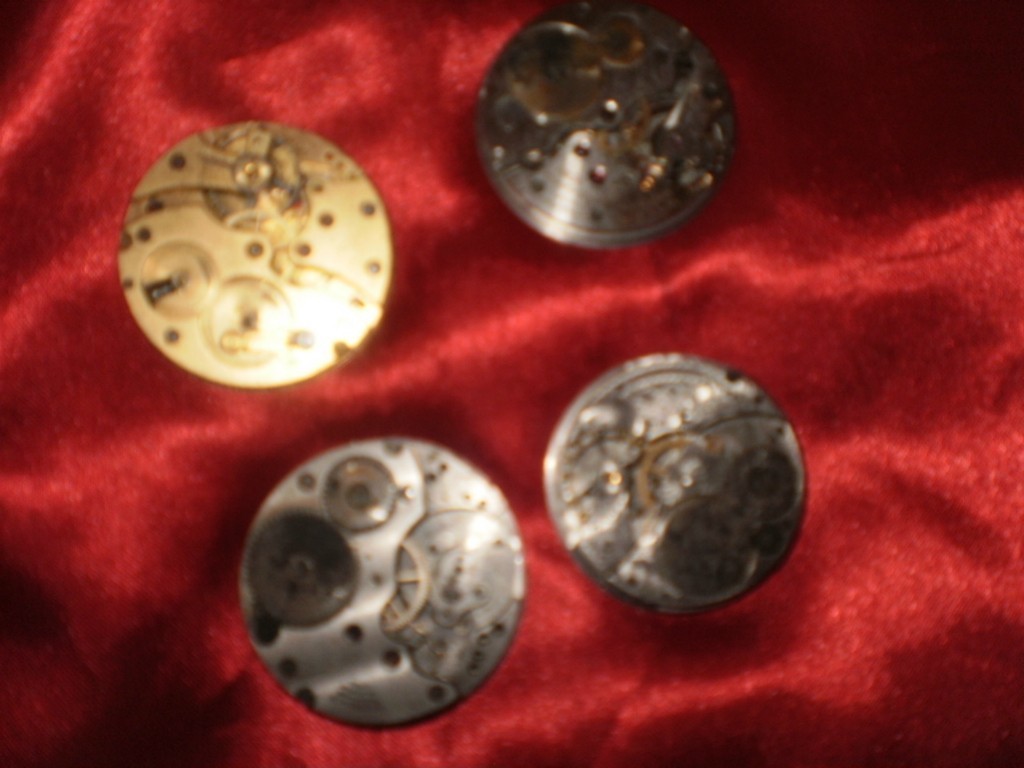 Third mistake
The out of focus picture should have made me run away immediately. When I complained later, the seller made the excuse that they couldn't afford a better camera. However the picture of the front of the watches from the same distance is just fine, so that clearly is not the issue.

The problem with the watches is that four of the six are severely rusted. Let's look at the detailed written description the seller gave of these watches:

WE HAVE 6 POCKET WATCH MOVEMENTS , FOR PARTS OR CAN BE RESTORED, THEY ARE PRE-OWNED AND USED AND ARE NOW FOR PARTS,
THEY DO NOT RUN, NONE OF THEM. THEY ARE SOLD "AS IS " AND LOOK AS CLOSE AS CAN AT THEM, BECAUSE I DO NOT DO REFUNDS
NOR RETURNS, ALL SALES IS FINAL, SO IF YOU HAVE A QUESTION , PLEASE SEND ME A MESSAGE, BEFORE YOU BID OR BUY.

I AM LISTING THEM FOR  40.00 TO START AND   5.00 SHIPPING, YOU PAY INTO PAYPAL.I WILL LIST THEM EACH ONE
BELOW, AND I AM LISTING THEM FOR ONE, 1, DAY ONLY. THEY ARE;

1. NO NAME ON IT 

2. ELGIN,15 JEWELS, MADE BY THE ELGIN  NATIONAL  WATCH COMPANY,IT HAS A DIAL, BUT DAMAGED, NO HANDS , NO CASE , NO STEM,,
HAS A SMALL SPOT OF RUST ON THE TWO WHEELS ON BACK,BUT ALL ELSE IS REAL CLEAN,GOOD TO BE RESTORED CLEAN IT IS A 
SIZE  16 WATCH AND HAS #s ON IT, WHICH ARE ; 209702621, I DID NOT CHECK THE YEAR MADE, BUT I CAN ASSUME SOME TIME AROUND
1900s. THIS IS A VINTAGE PART AND HAS BEEN AROUND A LONG TIME.

3. ELGIN  SIZE 18 , SWISS MADE<15 JEWELS, NO SECOND ,NOR HOUR HAND, NO CASE NO CRYSTAL , NO STEM,, HAS A DIAL,
SOME PARTS ARE MISSING,ALSO HAS A SMALL SPOT OF RUST ON THE TWO WHEELS O THE BACK, BUT ALL ELSE IS REAL CLEAN,
IT CAN EASILY BE RESTORED OR USE FOR PARTS. I DON"T KNOW MUCH ELSE ABOUT THIS WATCH PART.

4. WYLER MADE BY THE WYLER WATCH COMPANY , SIZE  ABOUT A 16 ,IT IS A INCAFLEX,"THE SKIPPER" WATCH. HAS A GOOD DIAL AND
ALL HANDS,NO CASE NO CRYSTAL, 17 JEWELS SWISS MADE , ALSO HAS A SMALL RUST SPOT ON THE TWO WHEELS ON THE BACK 
OTHER WISE IT IS REAL CLEAN, THIS ONE CAN EASY BE RESTORED OR USE FOR PARTS

5. Elgin  17 jewels ,no stem,missing second hand,size 16 has # on watch 2579794 made by Elgin National Watch Co., USA very clean

6. Hanover - 21 jewels,missing minute hand,has # on watch 413557
dial is porcelain and has some cracks and dents on it.

NONE OF THESE WATCHES RUN AND WE ARE SELLING THEM FOR PARTS OR TO BE RESTORED,NONE HAVE CASES. THANK YOU .

My comments on these descriptions, now that I have them in hand is as follows:
No name: This is fairly described, this is the all brass movement in the photos.
Elgin 20970262: we will see about the "small spot of rust, else real clean.
Elgin with "small spot of rust"
Wyler with "small rust spot", otherwise real clean
Elgin 2579794 "very clean" - no mention of rust.
Hanover - no mention of rust or missing parts.
I am satisfied with numbers 1 and 4 as being adequately described. The other four are badly rusted. I described them as "rusted solid", which the seller disagreed with. The big lesson in all this is that detailed descriptions did not replace decent pictures. We will see in a minute what the seller called a small rust spot.

Here is watch 3, with the small spot of rust, real clean.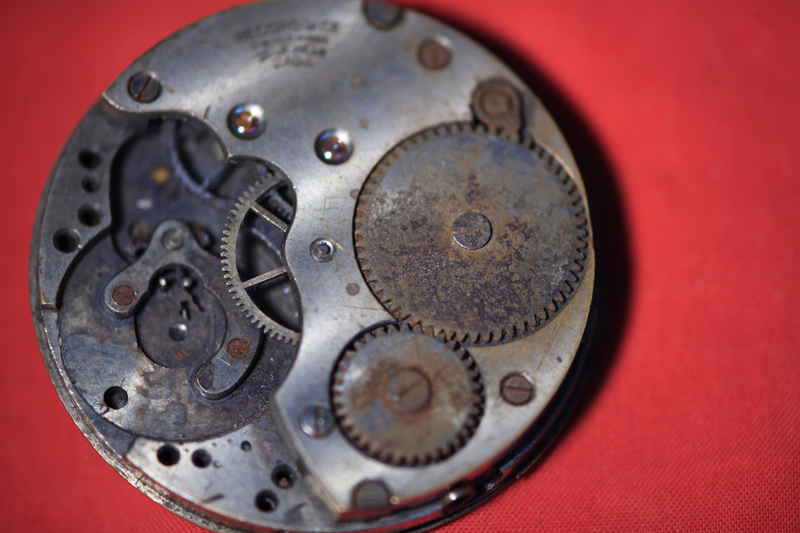 Here is watch 5, "very clean" with no mention of rust.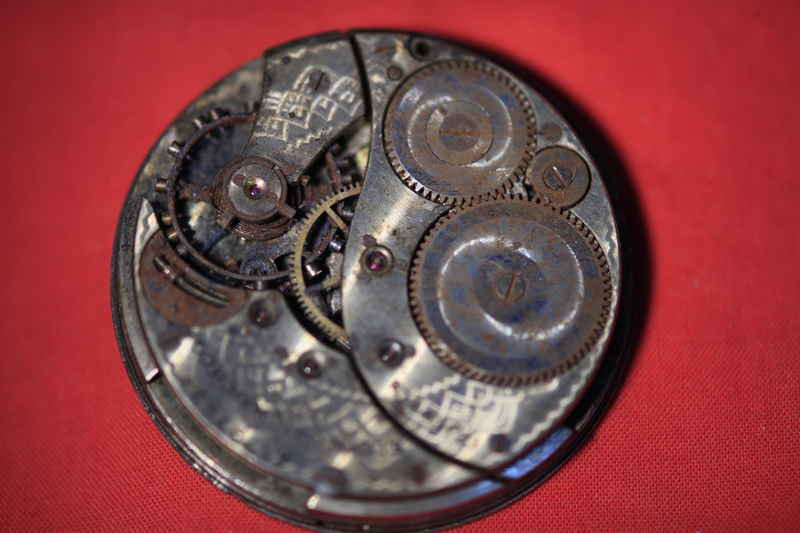 Here is watch 6 (rust not mentioned).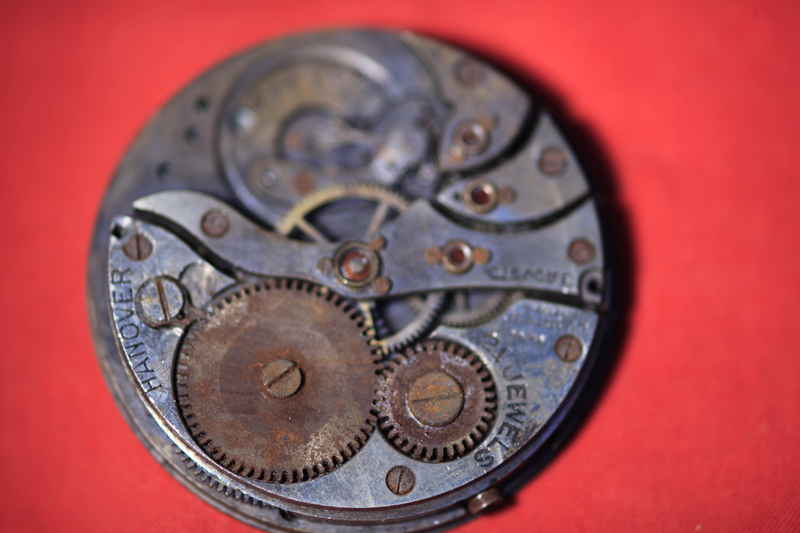 Here is watch 2, small spot of rust, otherwise real clean.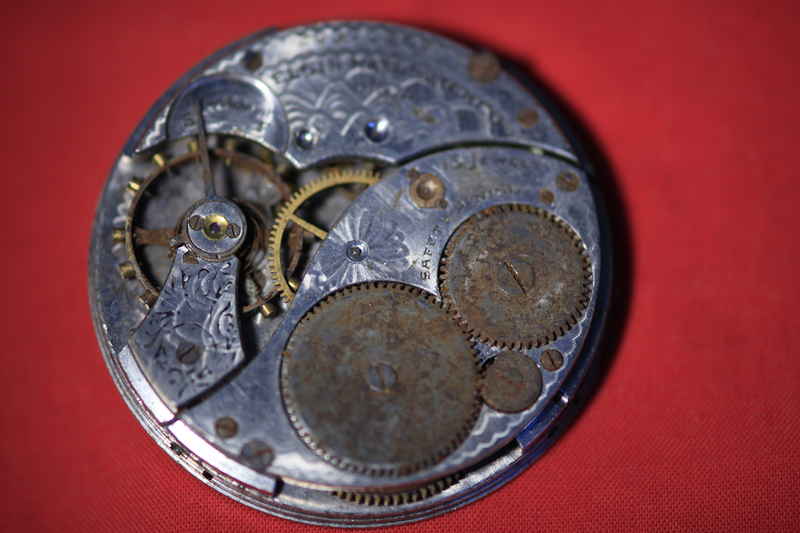 Here is a closeup of winding gears and click on watch 2. To me the click looks rusted tight to the gear.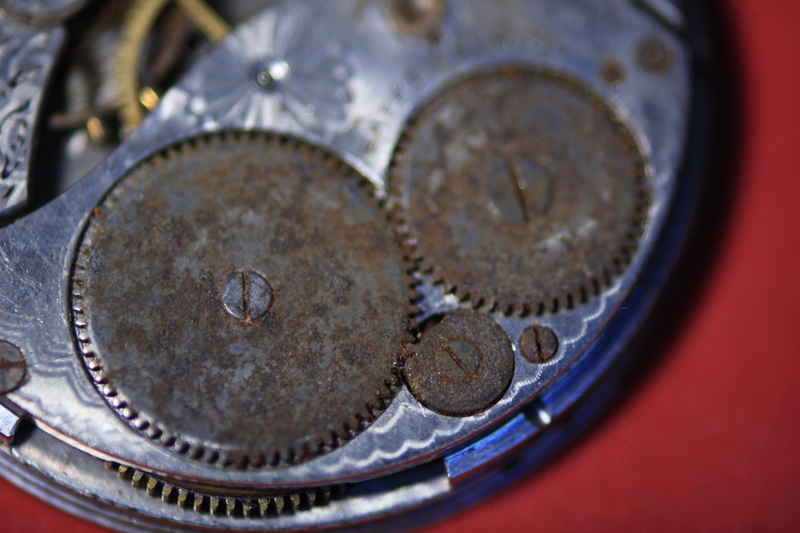 Here is a closeup of the balance wheel and hairspring on watch 2.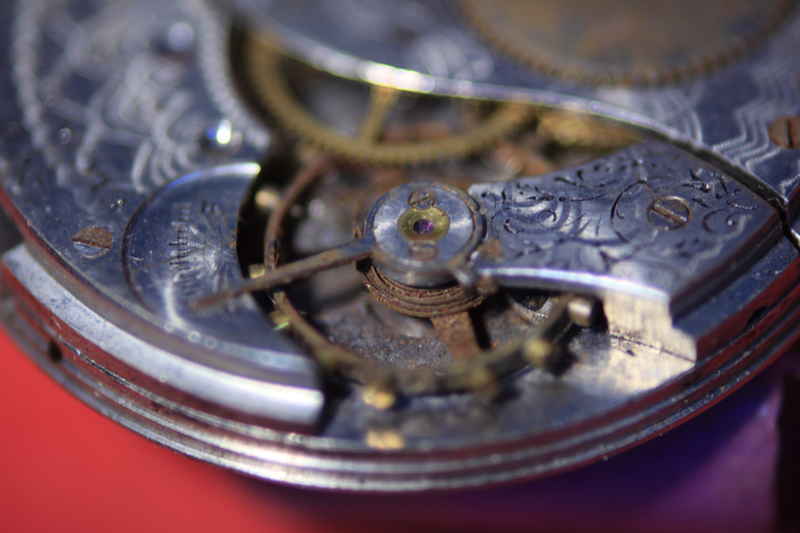 The moral of the story
If the pictures are horribly blurred, don't bid -- and be skeptical of any descriptions. The pictures are probably blurred for a reason. I only spent $40 on these 6 watch movements, and I may still get the moneys worth in education (from the watches, not the buying experience).
---
Have any comments? Questions? Drop me a line!

Adventures in Computing / tom@mmto.org